PRIMRIA watch straps are the combined length of the 2-piece straps – Upper Strap and Lower Strap. Standard lengths are 95/135mm, fits wrists approximately 6.25″ to 8″ wrist circumference in 8 increments. If your wrist size is outside this range, please feel free to contact us. Custom fitting is part of our service, free of charge. Our length of straps can be tailor-made to your wrist size. You can remark your specification/wrist circumference in the note area while ordering. To determine the length/lug width of your watch band follow these 3 steps. 1. Measure your watch case. 2. Measure your original band. 3. Measure your wrist circumference.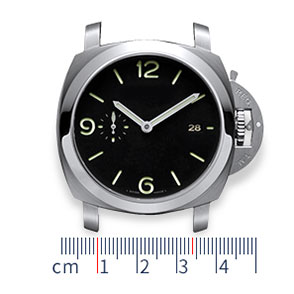 Measuring your watch case
Measuring the distance between the watch lugs in millimeters(mm) from your watch case, It is better to measure without the watch band as this will give you a more precise measurement. the popular lug width are 20mm / 22mm / 24mm.
Measuring your original band
In some case, your watch lug width is printed on the interior of your watch band. If you see any numbers (such as 20, 22, 24) that are the lug width of your band in millimeters (or mm). If your band does not have the printed number, you can also measure the width of the band from edge to edge.
Measuring your wrist
To measure your wrist circumference, you can simply wrap a piece of string or paper band around your wrist at the area where you normally wear your watch, do not give too much tension. Now you can mark a point on the string/paper where it crosses itself, and lay it flat on a flat surface and measure the distance between the marks. If you have a measuring tape on hand, it would be easier.
Here is a good measuring video:  https://www.youtube.com/watch?v=4kZkaRJQS5U
Please contact us if you need some help selecting the correct strap for your watch.